Year of the Pig Tea Time Capsule
Welcome to the blog on our new web site!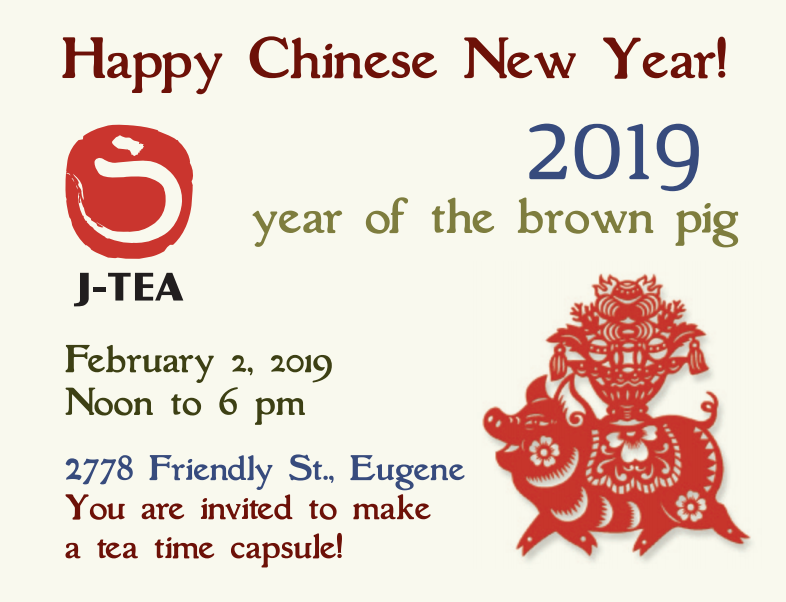 Year of the Brown Pig Tea Time Capsule Sealing Event
Saturday, February 2nd
Noon to 6 pm... Please join us to celebrate Chinese New Year! At this event we will be making a tea time capsule that we plan to seal away for twenty years. This year will feature a tasting of fresh osmanthus oolong and aged osmanthus oolong tea. This is a way to peek into the world of transformation that is aged tea.The year of the pig is the last symbol of the Chinese zodiac, so many open ended situations will be coming to a close as the final year in this twelve year cycle has the energy of finishing things up.
New Web Site
Welcome! We are excited and look forward to using this site as a platform to assist you in your tea journey.
New Blog
You are here! Thanks for reading.
New Newsletter
The informative tea newsletter will continue, and one is coming soon so keep your eyes out for this!
New Tea
Number Eight is named after its code number in the Taiwan classification system. It's a large leaf assamica varietal that is grown in Taiwan near Sun Moon Lake, an area with a long legacy of assamica production. This is a delicious and highly addictive black tea. I think I've already enjoyed this tea several times in the four days that we first met.

For those of you who were familiar with our first batch of Number Eight black tea, this one is slightly different and instead of the nice molasses undertone of that batch, this one is more cacao nib up front, very sweet and then shifting to some bite. And this all takes place in the course of a sip. So for us at J-Tea, it is very exciting. Yes it is stimulating, but it is mostly exciting because of its delicious flavor, enticing aroma, and luscious mouth feel.